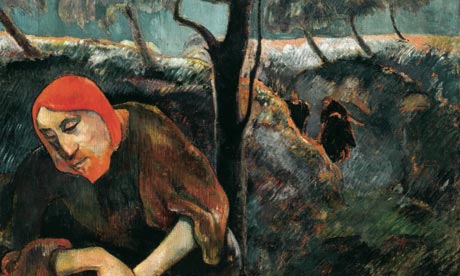 A sermon preached by Rev. Dr. Randle R. (Rick) Mixon
First Baptist Church, Palo Alto, CA
Sunday, March 20, 2016
Text: Luke 22:39-46; 23:44-49
Dinner is done. Bread has been broken and the cup shared. The candles have begun to flicker. It has been a warm and wonderful evening, for the most part; yet something ominous lingers in the air as darkness falls. He has taught them and blessed them, promising them each a role in the Beloved Community. But he has also talked of denial and betrayal, of suffering and death, and this is troubling.
Well, it has been a strange week and a full one at that. Just last Sunday there had been the thrill of entering Jerusalem in a kind of crazy make-shift processional when the crowd had broken into cheers, waving tree branches and tossing their coats onto the road – "Blessed is the King who comes in the name of the Eternal One! Peace in heaven! Glory in the highest!" Hadn't that been a day?! Yet, afterwards, some had seen him sitting and weeping over the old city, "Ah Jerusalem! If you…had only recognized on this day the things that [really do] make for peace!" From cheers to tears in one short day – how strange.
Then there he was, wildly driving the sellers from the Temple grounds, shouting, "It is written, 'My house shall be a house of prayer'; but you have made it a den of robbers." They had never seen him so angry. In spite of the threats of those in authority, they had spent the rest of the week on the temple grounds where he had dazzled them all with his teaching. Some of the lawyers and religious experts had tried to trap him with trick questions but he outsmarted them every time. All the people were spellbound by his wisdom and charisma. It was truly a week of wonders!
Now they were feeling a little drowsy. A combination of the full week, the warmth of their intimate dinner, the effects of the wine and the fading of the light was making them sleepy. They cleaned up, packed their belongings and headed back to the campground on Mt. Olivet. In the peace of the old olive orchard they would stretch out on the grass under an ancient tree and gaze at the stars through leafy branches until they drifted off to sleep.
But Jesus seemed agitated. He was not ready to turn in. Something on his mind had to be worked through in the stillness and beauty of this night. He was going to pray and he wanted them to join him. "Pray for yourselves, that you will not sink into temptation." Well yes, that seemed like a good idea, but maybe it could wait till morning. He went off by himself a little distance. At first they could see him clearly in the moonlight. He seemed to be wrestling intently with something. A couple of them caught words wafted on the night breeze, "…take this cup…your will…my will." But their eyelids grew heavy and the next thing they knew, he was shaking them awake. "Why are you sleeping? Wake up and pray that you will not sink into temptation."
There is much more to come, but let's pause here. Today's reading from Barbara Brown Taylor speaks of finding one's self in a liminal space, in thin place, caught somewhere between heaven and earth or, in this case, between light and darkness. The quotation refers to an experience she has intentionally sought out, spending some time in the complete darkness of a cave. She has lined up friends who are seasoned spelunkers to take her deep into a cave, beyond the large and lighted chambers where the tourists go. This is all part of her desire to understand darkness better and to walk in it without so much anxiety and fear.
Here she is, caught between the opening to the cave and the deep darkness that awaits. It is decision time and it turns out not to be such an easy decision to make. She stands for a while in a kind of "twilight zone." She writes, "On this threshold between dark and light, it is still possible to go either way: farther in or back out. It is still possible to see what you are about to lose" (Barbara Brown Taylor, Learning to Walk in the Dark.). Bright daylight on one hand, bleak grayness on the other hand.
Isn't this the same situation in which Jesus finds himself that night in the olive grove, on the threshold of dark and light? It is still possible to go either way. Shall he go further into his experience of God and God's way or will he back out? Luke says he prays to God for deliverance. "God, if You are willing, take this cup away from Me." I take this to mean he does not want to die. It seems to me a very human longing. God has given us the gift of life. We will all die eventually, but not now, not if it's not necessary. The truth is, I don't think God wants Jesus to die either. But Jesus knows that if he continues to walk God's way and the world around him fails to change, the consequences are inevitable. He can't keep speaking truth to power, love to fear, justice to corrupt systems and equity to those who have grown rich at the expense of the poor without stirring their ill-will. He can't continue to be faithful to his calling and not pay the price.
On this night on the hillside, he can still "go either way…farther in or back out." He can still see what he is about to lose and he has to make a choice. Luke makes it sound easier than Mark or Matthew does. "Yet not My will, but Your will, be done." The right response, but is it really so easily arrived at? Well, Luke, or some later editor, concedes that as he "prayed more intensely…his sweat was like drops of blood falling to the ground." Learning to walk in the dark is not easy after all, even for Jesus. He wrestles with God, as we all do, sooner or later, if we're willing to pay attention, if we're willing to listen for God's voice and look for God's way. It may be a hard road but, in the end, it is the right road. "Pray for yourselves, that you will not sink into temptation."
We have already seen Jesus handle temptation in his own life and ministry. More than once he has turned his back to ways that are easy, popular, self-serving. As with the disciples, any of us is vulnerable to closing our eyes in sleep when life gets to be too much. It may be the easiest way to handle the stress. When darkness falls around us, it's easier to turn on the lights and tune out anything that "goes bump in the night." We keep ourselves occupied until bedtime or we fall asleep on the couch in front of the television or computer. But what do we miss when we choose not to explore the deep darkness of the cave that is before us? What do we lose when we won't face the fears that arise in those moments when we turn away from every distraction and give ourselves over to wrestling with the questions and concerns that haunt the center of our being? What would it be like if we decided to encounter more intensely the Holy One and explore more completely our role in creating and occupying God's Beloved Community?
We are especially likely to shy away when we read the rest of the story – the betrayal by one of his own, right there in the olive grove; the harsh denial in the courtyard; the mock trials; the unjust sentence; the fleeing followers; the now jeering crowd as he parades once more through Jerusalem, this time carrying a Roman cross; the ignominious execution. Could we please skip these parts and go directly to Easter? We don't like this twilight zone. We don't want to go deeply into the darkness of this cave. There is too much to lose in these elements of the story. Let's run away. Let's pretend it never happened. Let's take a nap and hope it will be over.
Only there he is, hanging on that wooden cross, stretched out to die an agonizing death in the blistering sun. No glowing moon, no twinkling stars, no cool night breeze, just the scorching light of day. We can ignore, deny, pretend all we want, but this is part of our tradition. It is not a pretty picture, but it is one with which we are asked to wrestle.
One irony is that here he is left to burn in the brightness of the day and what happens? Luke says that "darkness fell over the whole region" and lasted through the hottest part of the day. I had never thought of it this way before, but maybe that darkness was like a cup of cold water to a thirsty soul, a small gesture of relief on an awful afternoon. And when that darkness fell, Luke says Jesus was able to turn his gaze toward God, shouting, "Father, I entrust My spirit into Your hands!" Maybe that sounds hollow to you, given the circumstances, but I'm going to guess that Jesus is able to place his dying self into God's hands with such profound trust precisely because he has learned to walk in the dark. He knows, in the core of his being, that, even in death, God goes with him all the way.
This is why Jesus was so eager that his disciples keep awake and pray that they wouldn't give in to temptation. This is why Barbara Brown Taylor has invited us to share her experiences of learning to walk in the dark. This is why John of the Cross opened for us the dark night of the soul and Thomas Merton writes of the Holy One that "I trust you always though I may seem to be lost and in the shadow of death."
Of all the weeks of this Lenten season, we come now to the one called Holy. Now when the darkness falls, where will you find yourself? In this recurring "twilight zone" in which we stand on the "threshold between dark and light," when "it is still possible to go either way: farther in or back out," when you "see what you are about to lose" but also have a glimpse of what might be gained, which way will you turn? Whichever way you turn, whether the crowd cheers or jeers, I hope you know that God goes with you, in the darkness and in light, in life and death – all the way. Amen.